Landscape Paintings by Linda Apriletti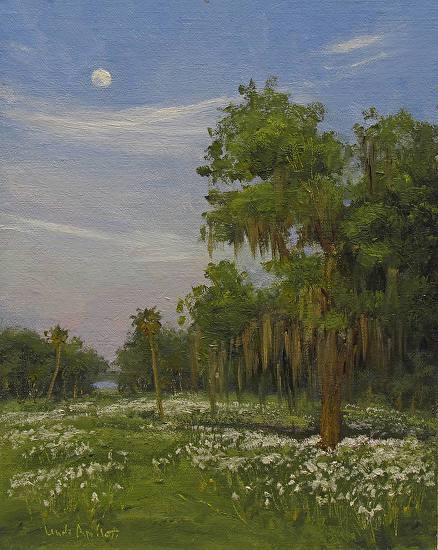 Featured New Painting: Moon and White Poppies, 10" x 8"
A new plein air painting in the Available Florida Landscapes portfolio
Plein Air and Landscape Oil Paintings
Florida landscape painter Linda Apriletti focuses her oil paintings on Florida, the Everglades and Big Cypress.
Florida artist Linda Apriletti is your source for captivating plein air and studio landscape oil paintings for sale in South Florida. Enhanced by her love for nature and the outdoors, notably seen throughout her work, Oil Painter, Linda Apriletti, draws inspiration from her environment and scenic surroundings.

While the majority of Linda Apriletti's work is completed on location en plein air, she is also recognized for creating larger pieces from her knowledge of outdoor field studies. With so much captivating nature in Florida, Linda is able to execute mesmerizing paintings of the Everglades, Big Cypress and the ocean amongst others. Please be sure to visit the paintings section of the website to view studio paintings, plein air paintings, the "Up North, Out West" collection and more!

As a member of Oil Painters of America, Landscape Artists International and Plein Air Florida, Linda has the opportunity to showcase her work in exhibitions and private galleries. Throughout the website, you will find up-to-date gallery information, examples of work and more information about Linda Apriletti.